This becomes automatically true when you visit The Land of Seven Sisters – the mesmerizing North East India. You simply can't arrive and claim, "That's it, I've seen it all". A few steps away, an unseen beautiful waterfall might be waiting for you.
While the interest of visiting North East is on the rise among travelers these days, very few finally visit. So we decided to roll out a comprehensive guide on the main attractions of each state. Not only are these places divinely beautiful, the culture of North East is so diverse and different from the rest of India, that it'll never cease to amaze, educate and excite you.
As Mark Twain rightly said,
"Travel is fatal to prejudice, bigotry, and narrow-mindedness, and many of our people need it sorely on these accounts. Broad, wholesome, charitable views of men and things cannot be acquired by vegetating in one little corner of the earth all one's lifetime."
ARUNACHAL PRADESH
1. Tawang Monastery
The largest monastery in India. Situated at 10,000 ft picturesque location, it is one of the largest monastery outside of Lhasa, Tibet.
2. Sela Pass
The Sela Pass is the high-altitude mountain pass located in Tawang District.  There is hardly any vegetation and remains frozen throughout the year. It is the main road connecting Tawang to the rest of India.
3.  Sela Lake
Close to Sela Pass is the beautiful paradise lake, Sela which remains frozen for most parts of the winter.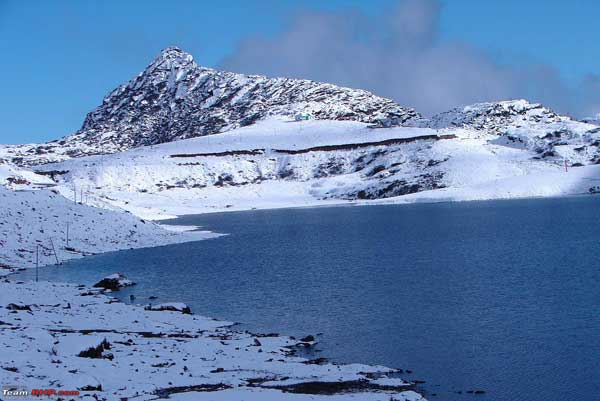 4.  Scenic Beauty of Bomdila
Beautiful landscapes. Eaglenest Wildlife Sanctuary. Romantic sunrise and sunset.
5. Gorichen Peak
Gorichen is an ice peak of the Himalayan Mountain range with an elevation of around 21k ft. It's view from Bomdila is simply mesmerizing.
6.  Shungatser or Madhuri Lake
The Shungatsher lake is the result of a violent earthquake which altered the eastern Himalayan terrain approximately 60 years ago. The movie 'Koyla' starring Madhuri Dixit was shot here and since then it is called the "Madhuri" lake by the locals.
Other Attractions:
River Rafting in Siang River
Nuranang Falls
Jaswant Garh War memorial
Rafting at Subansiri River
Attend the Ziro Music Festival at Ziro Town
Rukhmininagar near Roing (the place where Rukmini, Lord Krishna's wife in Hindu mythology, is said to have lived)
Jawahar Nehru Museum, Itanagar
Tipi (Bhalukpung)
SallyLake
Ganga Lake (Gyaker Sinyi)
ASSAM
7. One horned Rhino
Also known as the greater one-horned rhinoceros, these endangered beasts can be found only in Assam. Out of 3000 rhinos living in the wild, 2000 can be found here.
8. Kaziranga National Park
If you want to experience the true wild and connect with nature, take a safari across the Kaziranga National Park.
9. Kamakhya Temple
It is a Hindu temple of Goddess Shakti. One of the oldest of the 51 Shakti Piths, festivals celebrated here include Ambubachi Mela, Manasha Puja and Durga Puja.
10. The Mighty Brahmaputra
Brahmaputra is the only male and the largest river in India. Breathtaking as it is, do take a river cruise if you are there and watch out for those beautiful river dolphins.
11. Majuli
One of the largest inhabited river islands, hub of Vaishnavite Satras initiated by Assamese saint Srimanta Sankardeva and his disciple Madhavdev.
12. Tea Gardens
You cannot miss the tea gardens of Assam. Beautifully spread across the entire state, world can never be more green.
 Other Attractions:
Nameri National Park
Sualkuchi – ethnic silk and boat race
Night Safari at Manas National Park
Ahom Architecture at Sivasagar
Dibru-Saikhowa National Park
Orang National Park
Umananda Island – the smallest inhabited Riverine Island in the world
MANIPUR
13. Shree Govindajee Temple
An unique deity, carved out of a jackfruit tree. Temple dedicated to Lord Vishnu.
14. Loktak Lake and Sendra Island
World's only floating lake due to the floating phumdis (heterogeneous mass of vegetation, soil, and decomposing organic matters) on it. Largest freshwater (sweet) lake in India.
15. The Dancing Deer (Sangai)
Only in Manipur you can spot the rare and endangered Brow-antlered deer.
16. Manipuri Raas Leela
The cult of Radha and Krishna is a visual treat; showcases the artistic genius and creativity of Manipuri people.
17. War Cemeteries
War memorials from the twin victory over the Japanese, which took place in Imphal and Kohima in the northeast India in 1944.
 Other Attractions:
Langthabal
Kaina – the sacred place of Hindus
Moirang
Taste Rice Beer
MEGHALAYA
18. Umiam Lake
You can visit this lake for various adventure sports like kayaking, water cycling, scooting and boating.
19. Double decker live root bridges
Naturally occurring bridges formed with the live roots of trees. Not to be missed.
20. Nokrek Red Panda
Spot the rare and endangered red panda. Explore the rich biodiversity at Nokrek.
21. Mawsmai Cave
Cave lover's paradise. More than 1000 (almost 1350 discovered till date) explored and unexplored caves. Mawsmai cave is the most accessible one as it can be explored without a map.
22. Nohkalikai falls
Tallest plunge waterfall in India (335m). It has an interesting tragic legend. Pristine beauty. Also look out for numerous other waterfalls like the Seven Sisters falls, Elephant falls etc
23. Dawki
Fishermen on boats in the beautiful Dawki river.
Other Attractions:
Shillong
Mawlynnong Village
Cherrapunji and Mawsynram – wettest place on planet earth
Elephant Falls
Nohsngithiang Falls
Spot Red Panda at Nokrek National Park
Kyllang Rock
Dawki border
Explore the hills – Garo hills, Jaintia Hills, Khasi Hills
MIZORAM
24. Vantawng waterfall
Located in Vanva river near Thenzawl, it is named after an expert swimmer Vantawnga. Very beautiful with forests and hills surrounding it.
25. Tamdil Lake
Tamdil is a natural reservoir lake situated near Saitual and is shrouded in myth.
26. Reiek Tlang
Adorned with thick trees and bushes, Bangladesh can be seen from the Reiek hilltop on a clear day.
27. Rice Bowl (Champai valley)
Located towards the base of the Champai town, a chain of green hills with luxuriant rice fields.
28. Phawngpui Peak
Phawngpui Peak, the Blue Mountain, exhibits the most enchanting view of Mizoram. There is a semi-circular cliff in the western side called Thlazuang Khàm, which has a sharp and deep fall and is believed to be haunted by spirits.
Other Attractions:
Tomb of Vanhimailian
Hmuifang Tlang
Falkawn  Village
NAGALAND
29. Hornbill Festival
Most famous festival of Nagaland celebrated every year during the first week of December.
30. Touphema Village
Its the Naga tourist village providing fascinating insight into the history, customs, tradition and ancient myths of the Naga people.
31. Japfu Peak & Dzukou Valley
The highlight of the peak is a Rhododendron tree, which stands 130 feet tall and finds a place in the Guinness Book of World Records.
32. Khonoma Green Village
It is the first green village in India where no one hunts or cuts trees.
33. Mokochung
Mokochung district is the home of the Ao Nagas and economically, politically the most important urban centre in northern Nagaland.
 Other Attractions:
Shilloi Lake
Dzukou Valley
Mon
Buy some bamboo & cane furniture
Buy colorful handloom, tribal crafts and jewellery
TRIPURA
34. Neer Mahal
Built in the beautiful Rudrasagar lake, Neer Mahal is also known as the 'Lake Palace' of Tripura.
35. Unakoti Hills
Ancient rock-cut images and stone idols of lord Shiva, mountain scenery and waterfalls make it a chief tourist attraction.
36. Ujjayanta Palace
Former royal palace in Agartala and now a museum.
37. Kamala Sagar Kali Temple
Do not miss this 17th century temple located about 27 kms from Agartala. It is situated right near the international border with Bangladesh.
Other Attractions:
Rowa Wildlife Sanctuary
Tripurasundari Temple
We will have to admit that this list is incomplete; it'll never be complete. But with your help, we can make it comprehensive. So please contribute in the comments section the places we've missed and are worthy of a visit.